Shotcut is a free, open source, cross-platform video editor available for macOS/Linux/Windows.
It supports hundreds of audio and video formats and codecs thanks to FFmpeg. No import required which means native editing, plus multi-format timelines, resolutions and frame-rates within a project. Frame accurate seeking supported for many video formats.

Device and Transport Options
Blackmagic Design SDI and HDMI for input and preview monitoring. Screen, webcam and audio capture. Network stream playback. Supports resolutions up to 4k and capture from SDI, HDMI, webcam, JACK & Pulse audio, IP stream, X11 screen and Windows DirectShow devices.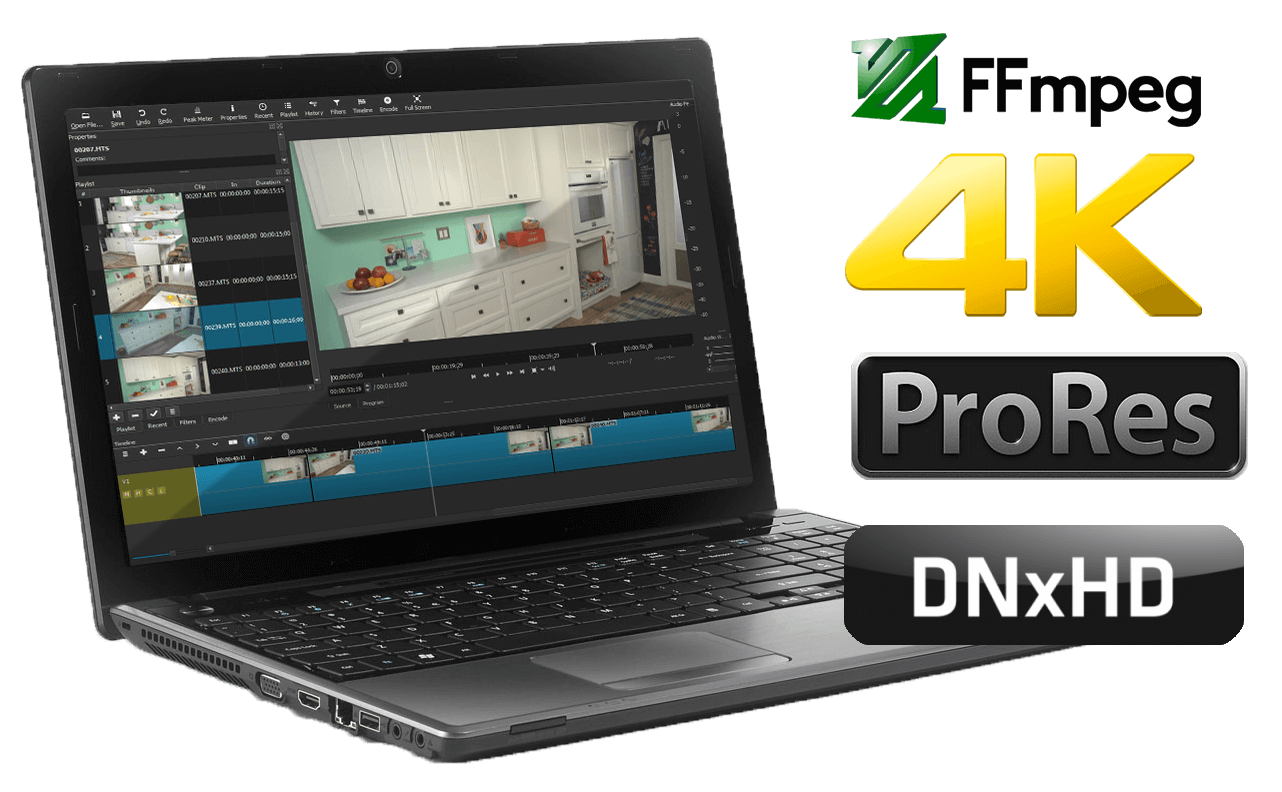 Sleek, Intuitive Interface
Multiple dockable and undockable panels, including detailed media properties, recent files with search, playlist with thumbnail view, filter panel, history view, encoding panel, jobs queue, and melted server and playlist. Also supports drag-n-drop of assets from file manager.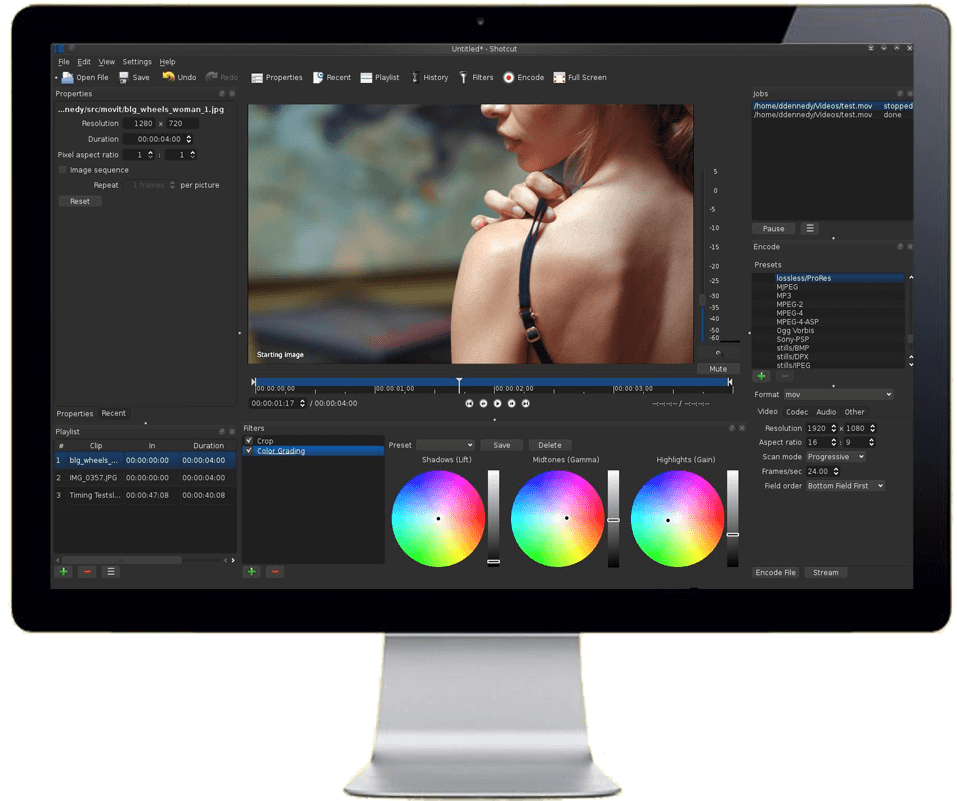 Cross platform support: available on Windows, Linux, and macOS
Codec independent so does not rely on system codecs
Can run as a portable app from external drive
UI translations: Catalan, Chinese, Czech, Danish, Dutch, English, Estonian, Finnish, French, Gaelic, Galician, German, Greek, Hungarian, Italian, Japanese, Korean, Nepali, Norwegian Bokmål, Norwegian Nynorsk, Occitan, Polish, Portugese, Russian, Slovak, Slovenian, Spanish, Swedish, Taiwanese, Thai, Turkish, Ukranian (not all 100%, but you can help)
Batch encoding with job control
Encode/transcode to a variety of formats and codecs thanks to FFmpeg
Stream (encode to IP) files and any capture source
Video quality measurement (PSNR and SSIM)
Perform integrity check of an audio/video file
View detailed information about an audio/video file
Blackmagic Design SDI and HDMI for input and preview monitoring
Leap Motion for jog/shuttle control
Webcam capture
Audio capture from system device (microphone, line in)
Capture (record) SDI, HDMI, webcam (V4L2), JACK audio, PulseAudio, IP stream, and Windows DirectShow devices
Multi-core parallel image processing (when not using GPU and frame-dropping is disabled)
OpenGL GPU-based image processing with 16-bit floating point linear per colour component
AMD, Intel, and NVIDIA hardware encoding
You can download and try the Video Editor from the Shotcut website here.
They also have a great range of tutorials available which you can find here