AIO Launcher for Android is not an ordinary launcher app. EVERYTHING you need is located on the home screen as you will see from screenshots below. If you are looking for a different kind of launcher then you might like to give this a try.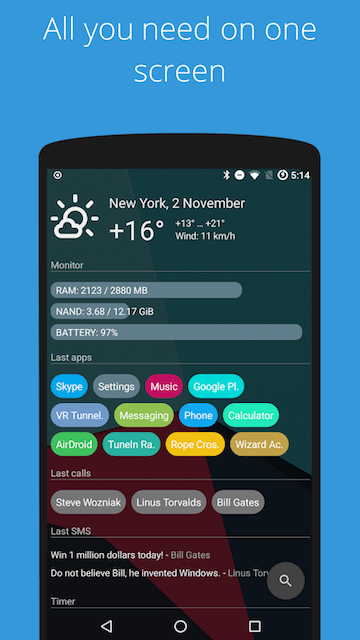 With the current free version (paid version costs £0.79p) you can have the following on your home screen:
Weather - current weather and forecast for 10 days
System monitor - RAM and NAND usage, percentage of battery power
Player - when you turn on the music, playback control buttons appear
Frequent apps - frequently used applications buttons
Frequent contacts - the list of recent contacts
Your apps - the icons of the selected applications (paid)
SMS - recently received SMS
Dialer - number pad for quick calls
Timer - timer start buttons
Mail - list of received emails
RSS - latest news
Twitter - all tweets or a single user tweets
Calendar - upcoming events in the calendar
Exchange rates - currency exchange rates
Bitcoin - current bitcoin price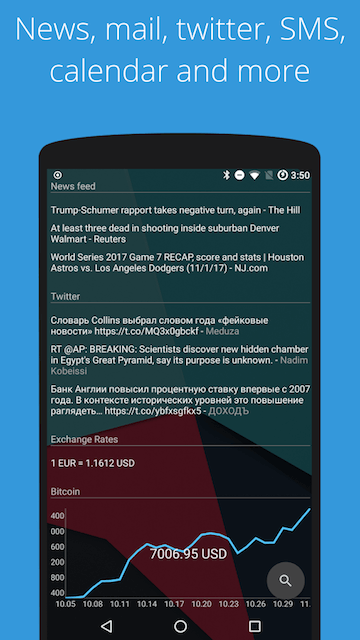 Usage:
Access your list of installed applications by dragging from the left edge of the screen
To refresh the information on the screen, pull down
Hold finger on various elements of the screen to open menu
To open settings, hold your finger on the search button, and then click the gear icon
Hold the title of the widget to move it around
Any widget can be disabled in settings
You can minimise the widget by clicking on its name
To remove an application, open the application menu, hold your finger on the desired application, and drag it to the recycle bin icon.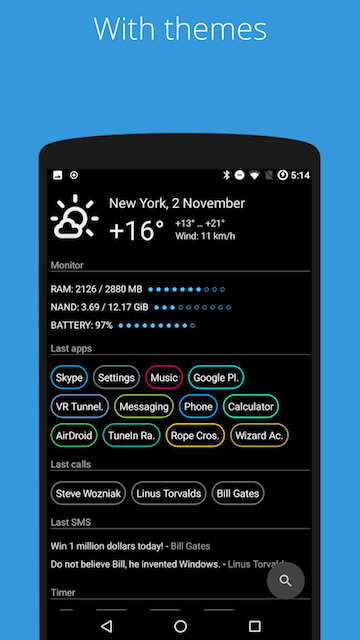 This launcher offers very quick access to everything and may prove to be very handy for some users. Definitely worth a try but it certainly won't be everyone's cup of tea.
If you do try it out and have any issues you can ask the dev if he can help by following the thread for this launcher on XDA