Reikey is a new app for macOS users that detects keyloggers on your Mac device. Reikey is from Patrick Wardle and is available from the Objective See website. If you don't know, Patrick is a former NSA worker who now creates security tools for macOS.
Reikey works with macOS 10.13+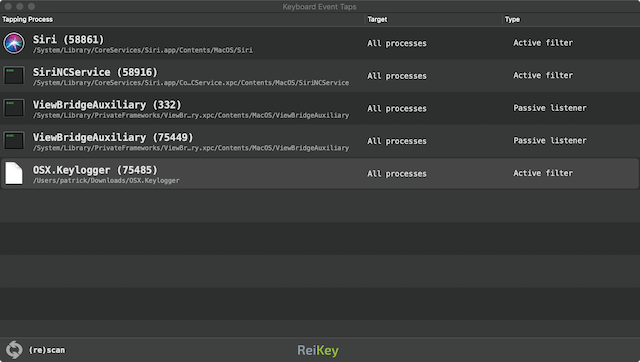 Malware and other applications may install persistent keyboard "event taps" to intercept your keystrokes.

ReiKey can scan, detect, and monitor for such taps!
The majority of macOS malware that contains keylogger logic (to capture keypresses) does so via CoreGraphics "event taps."
ReiKey was designed to detect such keyboard taps, alerting you anytime a new tap is installed. In other words its goal is generically detect (the most common type of) macOS keyloggers.
Sometimes this does provide a false positive because certain apps with accessibility features or that respond to various keyboard commands will also use CoreGraphics event taps to respond to user input. Siri is a prime example.
But if you are interested in an app that can detect keyloggers on your Mac then give this a try.
You can download Reikey from here
To read more about Reikey you can view the apps homepage here.