Nuclear is a nice looking pre-release application for desktops that sources free music from YouTube, Bandcamp and Soundcloud.
Features:
Searching for and playing music from youtube (including integration with playlists), bandcamp (including albums), and soundcloud
Searching for related songs in youtube
Downloading from youtube
Searching for albums (powered by last.fm and musicbrainz), album view, automatic song lookup based on artist and track name (in progress, can be dodgy sometimes)
Song queue, which can be exported as a playlist
Loading saved playlists (stored in json files)
Scrobbling to last.fm (along with updating the 'now playing' status)
Newest releases with reviews - tracks and albums
Browsing by genre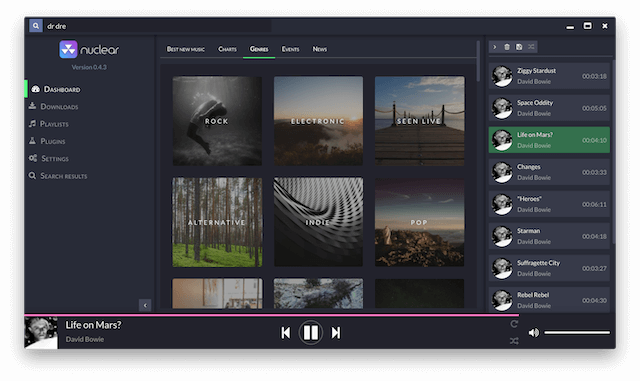 As it is pre-release there will be bugs but what is available now seems pretty good and is a great free alternative to the desktop Spotify app.
Once installed you can choose to search for artists/songs/albums using the built in search function or you can browse the Genres section. The Charts section isn't currently working but the dev is working on that so that could become a popular section for many users.
The default music source for this is YouTube but you can change that under the plugins section.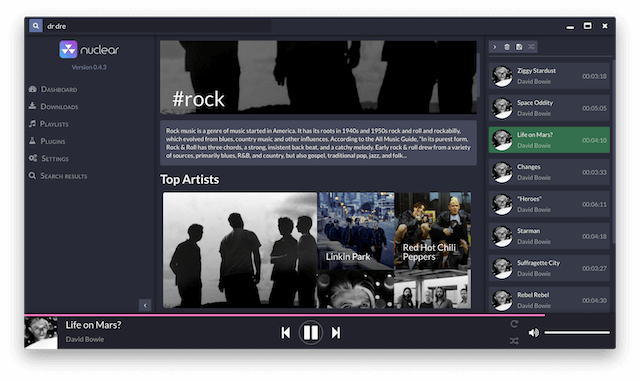 It is easy enough to add songs to your queue once you have found the songs you have searched for. Just click on the song and select add to queue or you can just select play now if you want to listen to that song straight away.
Last.fm integration allows you to login through the application and scrobble songs to your account.
Overall the pre-release is pretty good so when the dev has added all the features it could be a fantastic little desktop application for music lovers.
One bug I have noticed and is really annoying is searching an album and then clicking the Play button. This seems to freeze the application. The best way to do it is add songs from the album via clicking and adding to the queue.
---
I recommend using a VPN to help keep yourself anonymous and protect yourself online. You can get large reductions from IPVanish which allows you to connect multiple devices to an encrypted VPN connection at any one time.
.
User-friendly apps for all of your devices
40,000+ shared IPs, 2,000+ VPN servers in 75+ locations
Unthrottled speed
256-bit AES encryption
Zero traffic logs
SOCKS5 web proxy
Access to censored apps & websites
Multiple VPN protocols
Unmetered connections
24/7 customer support