TV2GO by DeltaDude (follow him on Twitter) is a live TV app for Android. This is a work in progress so more channels will hopefully be added as and when the dev can do it. As I say follow him on Twitter to keep updated on what he hopes to do with the app.
At the moment it consists of a few free-to-air channels including:
BBC 1, 2, 4, ALBA, 1 Scotland, 2 Scotland, 1 Wales, 2 Wales, 1 NI, 2 NI
Blaze
T4G
10, 10 Boss
7, 7 Two, 7 Mate, 7 Flix
SBS, SBS Viceland, SBS NITV, SBS Food Network
Magic, Kerrang, Kiss, 4 Music
The Box, The Box Upfront, The Box Hits
Cbeebies, Cbeebies Alt, CBBC
Racing.com, Red Bull
BBC News, Sky News, France 24
BBC Radio
QVC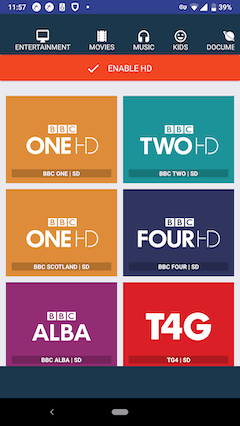 This is an ad supported application.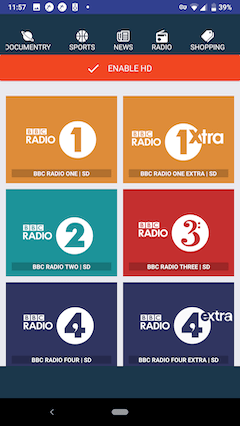 The app gets some bad reviews. Most people giving it a bad review don't seem to read the instructions which state you will need a VPN connected to the country where the channels broadcast from, or be in that country of course. So if you want to watch the BBC channels connect to a UK server on your VPN, want to watch Australian channels? then connect to an Australian server, simple.
I've given it a quick spin and the channels worked fine when I connected to a server in the necessary country.