AppLock is an Android app that offer individual app protection. If someone tries to gain access to your protected apps they will have to enter a pin or draw a pattern.
AppLock can lock Facebook, WhatsApp, Gallery, Messenger, Snapchat, Instagram, SMS, Contacts, Gmail, Settings, incoming calls and any app you choose. Prevent unauthorised access and guard privacy.
AppLock can hide pictures and videos. Hidden pictures and videos are hidden from Gallery and are only visible in the photo and video vault. Protect private memories easily. No pin, no way.
AppLock has random keyboard and invisible pattern lock.
Never worry about people checking your Snapchat, Musical.ly!
Never worry about friends borrowing your phone to play games with your mobile data again
Never worry about a workmate getting your phone to look at your gallery again!
Never worry about someone reading private data in your apps again!
Never worry about kids messing up Settings, sending wrong messages, paying for games again!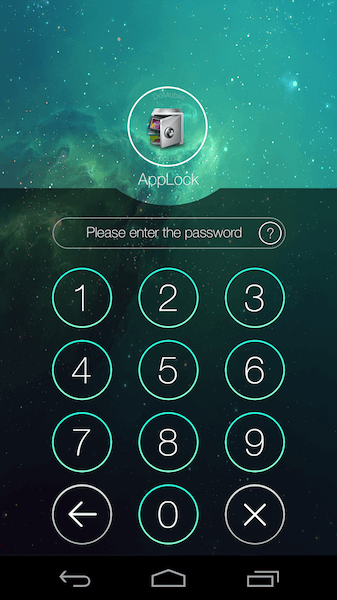 Features
• Lock apps with password, pattern, or fingerprint lock.
• Vault: hide pictures and videos
• Well-designed Themes
• Incognito browser: no history record
• Intruder Selfie: take photos of invaders.
• Customised background
• Customised Profiles: set different locked app groups
• Time Lock: auto-lock/unlock according to time
• Location Lock: auto-lock/unlock according to location
• Hide AppLock icon
• Advanced Protection: prevent AppLock being killed by task killer
• Random keyboard: prevent people peeping pin code
• Force stopped cover
• Lock switch (WiFi, Bluetooth, sync)
• AppLock widget: enable/disable AppLock with one tap
• Quick lock switch: Lock/unlock in notification bar
• Lock incoming calls
• Lock system settings to prevent a mess by kids
• Allow a brief exit: no need password, pattern, fingerprint again within set time
• Prevent uninstalling apps
• Low memory usage.
• Power saving mode